Thursday Music On the Dadeville Square

June 10, 2021
June 10, 2021
Thursday
6:30 PM
Website
www.ZazusVerandah.com
Location
Zazu's Verandah
128 W. Cusseta Street
Dadeville, AL 36853
www.ZazusVerandah.com
Contact Name:
Mitzy Hidding
Phone:
256-307-2188
Web site:
www.ZazusVerandah.com
Dadeville is in for a huge treat as we bring together a cast of legends under the awning at Zazu's Verandah Thursday, June 10. Bring your camp chairs and enjoy Mark Lyden, Brian Graber, Walt Berry, Tommy Landstreet, Skip Courtney and Bruce Yandle along with a few more of their friends who will also be there to jam.
All these musicians were in successful eighty's bands in Auburn and the south and remain respected throughout the music industry. Mark Lyden, a founding member of Nothing Personal (who had bands such as Widespread Panic & The Indigo Girls open for them and, Michael Stipe of REM reportedly went to every gig they played in Athens) has not lost his enthusiasm for writing and playing his own (amazing) songs and classic cover songs. Brian Graber is a Trumpet and Sax player based in New Orleans and was a member of a New Orleans group known as the "Runnin Pardners" led by bassist George Porter Jr. of the Meters (who was recognized at the Grammy awards for lifetime achievement in 2018.)
Don't miss this rare opportunity…live for one night on the beautiful Dadeville Square, Thursday, June 10th.
Mark your calendar to come to the beautiful Dadeville Square for live music on Thursday nights from May 13th – July 1st. Bring your chair to enjoy a variety of great music played under the awning at Zazu's Verandah. Come a little early, Z's V will be open and selling beverages. Come do a bit of social distancing while enjoying music and libations at our beautiful town square!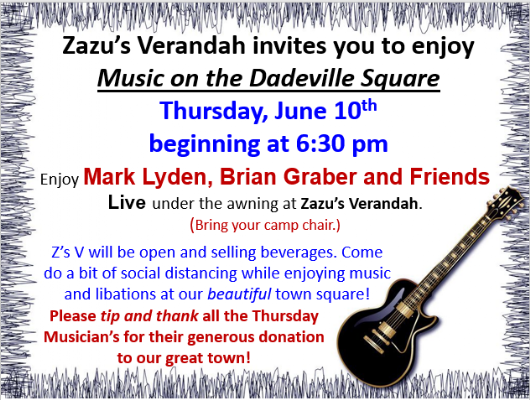 ---
Send Email to Event Contact
---
Member Comments…
---
897F1F6E-71D8-424C-87DC-2553AF8CBE96